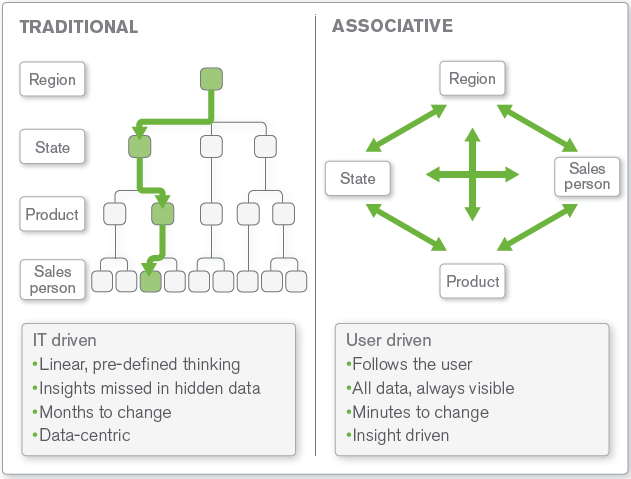 The Qlik Associative Model
Technology should be based on how the human mind works not based on computer algorithms. And when you find a tool that generates insights based on how each individual thinks, you have a world of insights and ideas. Why? Because our mind associates information based on our individual thought processes.
An Analogy
Let's say the goal is to understand how an internal combustion engine works. With a query-based tool, you would see some of the individual parts of the engine in isolation. You would be able to evaluate one part at a time, but would be left on your own to attempt to understand the relationships (associations) between the parts, and how they fit together as a cohesive whole to create a working engine.
With Qlik's associative model, however, you have the ability to analyze a complete working engine, with each part having a relationship to all of the other parts. You can tweak the throttle (make a selection) and see how this affects the fuel intake, carburetor and exhaust. You can watch the pistons pump and turn the crankshaft. You can  deconstruct the engine at your leisure and look at each part in the context of the parts next to it. This is the power of the associative model.
To read more, request secure access using the form below: