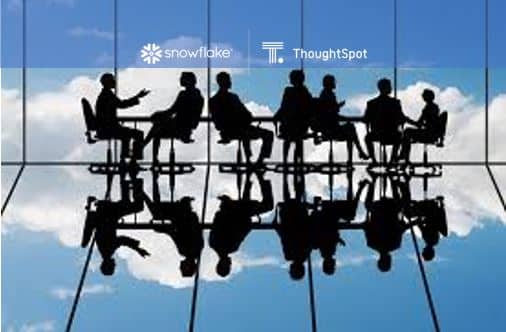 Let's have a conversation with your data
Toronto - Sep 12, 2019
7:30 AM to 10:00 AM
Enabling Search and AI Driven Analytics using your data warehouse by Snowflake and ThoughtSpot
Join Innovoco, Snowflake, and ThoughtSpot on September 12th, 2019 at Sheraton Centre Toronto, 123 Queen St W, to see the latest innovations in analytics and learn how your organization can benefit from scalable, elastic, and value-driven, analytics in the cloud.
Technology teams access data securely, build complex code faster, and use only what they need in order to help business teams become more productive.

Sales teams analyze trends without technical assistance through self-serve question and answer based analytics to generate new demand and close deals faster.

Finance teams have instant access to insights to better understand cash flow and reduce unnecessary costs and spending
Let's discuss how Snowflake & ThoughtSpot can help you:
Analyze billions of rows at sub-second speed.

Get Instant Answers with In-Database Search & AI

Get answers to questions you didn't think to ask.
Use the power of search and AI to uncover insights on Snowflake's high performance, zero management built-for-the-cloud data warehouse. Simply connect, select your data, and start searching. Queries run where the data lives to give you the most up-to-date answers.
Agenda:
7.30AM – Breakfast
8.00AM – Keynote (Innovoco) 20 minutes
8.20AM – ThoughtSpot (presentation & demo) 40 minutes
9.00AM – Snowflake (presentation & demo) 40 minutes
Date and Time: September 12, 2019 at Sheraton Centre Toronto, 123 Queen St W, from 7:30 AM to 10:00 AM